Help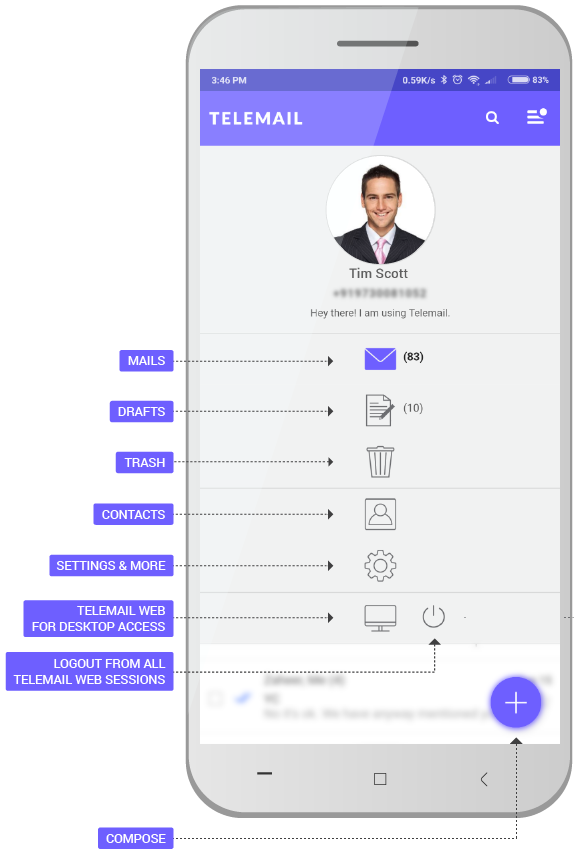 FAQ
Can I send mails from Telemail to other email services like Gmail, Yahoo, etc?


No.

If I change my number to a new number, will I still get access to my old mails?


Yes. Even the future replies to your old mails will come to your new number.

Can I revert back to my old number?


Yes. Follow the same process of "Change Number" to change from your current number to any other number.

I deleted my account by mistake, can I restore it or get back the access to my mails?


No. "Delete My Account" deletes it permanently. You can however create a fresh account with the same number.

I have dual SIM phone, can I use 2 Telemail accounts on the same phone?


As of now - No. We will allow this in future.

I have a land-line number which can't receive SMS, how can I verify phone number?


As of now - You can't. We will introduce other verification methods in future.

What is the maximum attachment size?


For current beta version of Telemail, it's 4MB.

How much storage quota per account?


For this beta version of Telemail the storage quota is limited and may vary. To keep it light, "Delete For Everyone" your sent mails (especially attachment mails), that are not required anymore.